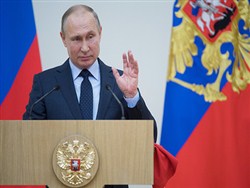 The President of Russia Vladimir Putin commented on the decision of the court of arbitration for Sport (CAS) terminated life-long suspension of a number of Russian athletes from participation in the Olympic games. On Thursday, February 1, RIA Novosti reported.
The court's decision "should please" and reaffirms Russia's position, which is that most of its athletes are "clean", stressed the head of state. But he added: "we also Need to be respectful and to the side on which we were arguing. Therefore, I think that there should be no from our side of euphoria, you need to take it easy".
"We ourselves still have work to do, that's exactly right, from the point of view of improving our anti-doping programs and policies. We will continue to do so with WADA along with the IOC and other international organizations", — said the head of state.
Earlier in the day, CAS upheld the appeal 28 the Russians canceling their lifelong exclusion from participation in the Olympics. In addition, appeal 11 the Russians were partially satisfied their fault in the anti-doping rule violation is proved, but CAS was commuted to life suspension for a pass Games in 2018.
The athletes were suspended by the International Olympic Committee (IOC), on the basis of the investigation Commission of the IOC under the leadership of Denis Oswald, which was engaged in the retesting doping samples from the Olympic games 2014 in Sochi.