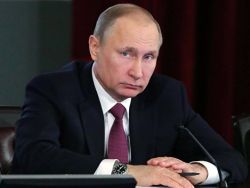 Sanctions put forward by Western States against Russia, could not achieve the result they expected in the US and the EU. Competent work of the government, and verified the actions of Russian President Vladimir Putin changed the situation in favor of the state, and today we can confidently say that the Russian economy is stabilized and strengthened.
Solid solutions Vladimir Putin not to succumb to provocations and pressure from the West have yielded positive results in Russia. The response to the Western sanctions have become a kind of impetus to the domestic economy. Entrepreneurs got the chance to occupy the niches, which are mostly dominated by foreign businessmen.
Necessary and further seeks to strengthen the economy of the Russian Federation and to strengthen the position of Russia in the world, Vladimir Putin called for now. During the ceremony of signing the General agreement between government, unions and employers in 2018-2020, the head of state noted positive results of the labor of our citizens.
"Today, the recession period we have passed. In some sectors, including in industry, in agriculture, the rise. We are faced with the common task to ensure its long-term, sustainable, in General, to set the economy on a positive trajectory. And that it is fundamentally important to ensure the growth of real incomes of citizens»— said Putin.
In addition, the Russian President expressed certainty that such accomplishments would be possible without the introduction of new technologies and disclosure of creative potential of employees.
"We need to remember is that economic results do not come by themselves. It is the result of human labor and the guarantee of the effectiveness of our economy, further increasing its competitiveness and decent working conditions for the job, increasing productivity», he said.
In turn, to reinforce the words of Vladimir Putin can at least open a large number of companies in recent years. So, among other large factories in Kirov and Nizhny Novgorod regions opened machine-building enterprises of Almaz-Antey, Moscow – production and insulation of steel pipes for various purposes, in Astrakhan – the production of tomato paste in the Stavropol region launched a steel melting shop, LLC "Taustal" (metallurgy and metal working) and other.
In General, given the fact that Russia declared "economic war", Vladimir Putin was able to save the face of the state and to avoid financial difficulties for the country. He made the right decision to strengthen the modernization of production and to motivate business people that gave great results. In our days, Putin continues to adhere to the strategy that the Russian Federation will not depend on anyone. In particular, the US and the EU, he already gave a hard fight back.