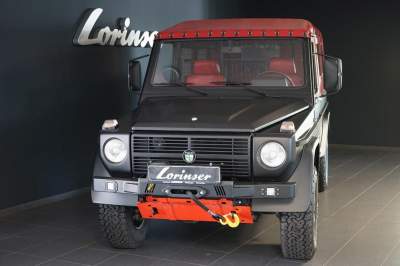 "Gaelic" was released under the name Punch.

The German company decided to work on the 26-year-old car, using a military jeep Mercedes-Benz G-Class 1993 model year.
The car has a great history of service in the Swiss army and is now offered for sale. According to preliminary information, "a series of" improvements will not be included.
It is noteworthy that this "Gaelic" was released under the name Punch. This brand was used for the German SUVs to 2000, and was delivered only in a few countries (Austria, Switzerland, Liechtenstein, Serbia, Slovenia, Croatia, Macedonia, Bosnia and Herzegovina, the UK and several African countries) – this further increases the feature of the car.
The tuners painted the whole truck in matte black, and is equipped with a passenger compartment red canvas roof. The car is designed for eight seats. In addition, there was installed a new bumper, added an electric winch, and the front optics became led.
Under the hood, installed a 2.3-liter naturally aspirated engine 116 horsepower. Pair them with a working automatic transmission on four stages and a reliable AWD system.
The cost of "Gelika" from tuners is 39 500 euros.