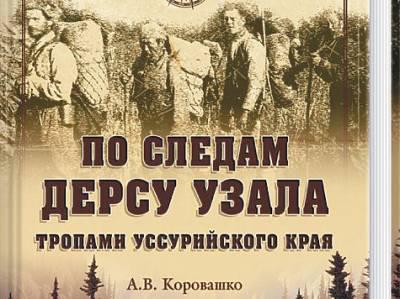 Dersu Uzala has already become a legend. The films, he appears in verse and prose by many different authors. His name take myself as "nicknames" members of hunting forums, and in our lexicon he entered thoroughly: "I, Too, Dersu Uzala", "what are You, Dersu Uzala?"
Meanwhile, there is a popular version, according to which the famous taiga hunter is a collective image, "made" of several conductors, the natives, who participated in the expeditions of Vladimir Arsenyev. This version is based primarily on ignorance of the subject. Indeed, if you rely solely on books Arsenyev, it is easy to assume that Dersu Uzala — the fruit of the writer's imagination of Vladimir Klavdievich. However, Nizhny Novgorod philologist Alexey Korovushka gives in his book (Alexey Korovushka. In the footsteps of Dersu Uzala. Trails of the Ussuri region. — M.: publishing house "Veche", 2016) numerous testimonies of the real existence of this hunter aboriginal.
Here, for example, a rather interesting sketch: "My love tiger — he said once. — He is skinny people (the word Dersu often used in relation to animals). He's a coward, a filthy beast. However, bear, boar better. My don't want to kill the tiger, he want why would he jump on me and growl?"
If you do not know who the author of the text, one might think that this is a fragment, not included in the works of Arseniev. But there is a travelogue of Peter Bordakov, published in 1914 in the magazine "Young Russia". Moreover, Bordakov, participated in the expedition Arseniev in 1907, two years later, ie in 1909, released in the Khabarovsk separate booklet story "Dersu Uzala". And the book of Arsenyev "In the Ussuri region," in which he first appears Dersu, came only in 1921. So the first "literary father" Dersu should be considered Bordakova.
Did these publications Arsenyev? Most researchers are inclined to think that he did not know. In any case, it is difficult to imagine that Bordakov and Arsenyev conspired for such hoaxes in the different years, published works about non-existent person.
That is typical — Dersu different from them. Have Bordakova he's sly, canny, not very eager to work along with all, prone to drunkenness and use of opium, it does not always honor the legacy of the ancestors. From Arsenyev, in contrast, Dersu hard-working, simple-minded, conscientious. However, the intonation Dersu, his manner of speaking, reasoning, even distinctive words from a lexicon are passed by Bordakova and Arsenyev about the same. Obviously, we are talking about the same person they just saw differently. Bordakov communicated with Dersu short period, Arseniev was time to find out gold much better and from different sides.
Korovushka notes that the expedition journals of Arseniev often in conflict with his books, in which the image of Dersu is changed. So, when you first meet Dersu Arseniev noted in his diary that he was dressed in a canvas jacket and "Mentovskie" (Chinese) pants. Many years later, describing an episode of Dating in his book, he'll put the Dersu in the jacket of tanned deerskin and the same pants to emphasize his wildness and remoteness from civilization. It is logical that the same metamorphosis had been and moral character of Dersu. Just as Fenimore Cooper endowed his characters-Indians, manners of the Europeans and white settlers, Arsenyev Dersu turned in a classic "noble savage."
The book contains the statements of the first wife Arsenyev — Anna Konstantinovna that special love for Dersu did not differ and did not welcome his presence in the house. It irritated her that didn't use Cutlery, I did not observe elementary rules of hygiene were dirty and smelly, but "didn't want to go to the bath" and "smoked a smelly pipe", "love liquor", "sang mournful songs, even though the saints". But Vladimir Vladimirovich, son of Arsenyev, was extremely interesting and informative chat with Dersu. Here's what he recalled: "Sometimes, on warm days, I Dersu left for the day for "hunting tigers"… Dersu with a rifle, and I with a child a gun… we Came to the river Ussuri, where Dersu campfire, which was a dinner". This is a very valuable testimony because it suggests that Dersu, no matter how prettified Arsenyev, really possessed the qualities of an excellent tracker and had a thing about responsibility. Otherwise Arseniev never would have released him in the woods of his infant son.
Actually Alex, Karovska did a great job. In his book you can learn about different versions of death of Dersu, who was nominated in different years, learn about the family from which came the most famous in the world gold, get an idea about the customs of small peoples of the Ussuri region. In short, if you want to know about Dersu more than you know, then this book is definitely for you.