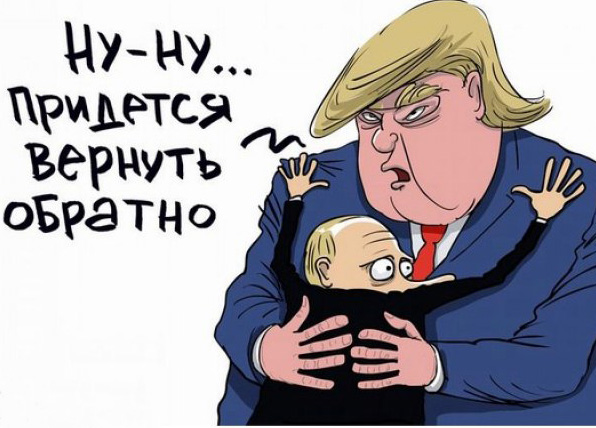 Frankly, do not feel any malice about the debacle suffered by the Russian leader in Vietnam at the APEC summit, where the arch-American friend about humiliated him by refusing to separate meeting. Sad to see how Putin wins back the humiliating experience of explaining what happened to the unmatched graphics and your trunovskogo, and also unacceptable to the Russians the features of the Protocol by the opposite party.
Show full profile… it Turns out that the Americans have offered to host a rendezvous on the platform, as it was in July at the G8 in Hamburg, and it is our considered rudeness as you can, like, twice in a row to show who is in the world the main….
Embarrassing to see how Putin is trying to put a good face on a disastrous game in the greatness, jokingly promising to "punish" his negotiators, allegedly failed to resolve a Protocol problem. No, of course, will not be punished, not in the Vietnamese da Nang and yesterday the problem occurred, and everything about it is good you understand — to begin to count you will have, at least with "the conquest of the Crimea", but not Ochakov, and Putin's…
You can still punish us senators who "usdat" the President and his team. Even though, trump, in a correctly oriented Russian news agencies like "through I can not" asked Putin again and again, invading Russia in the American elections, and heard it ayayay, well you know, it's not me, it is they, the hypocrites(thanks Surkov, he sternly rebuked) me so bridled.
Here's the new Russian Ambassador in Washington is complaining about Antonov, came to establish a relationship, and no Senator wants to take…
I mean, when Putin generously talks about his readiness to "turn the page" in relations with the United States, like, forget everything and start with a clean slate, nothing to reset is not released. Neither trump nor Tillerson will not help here, what tchotchke "friendship" on their chest do not hang…
Not even the assurances of Moscow that it will not solve the problem Americans are obnoxious North Korean Kim. Somehow, you know quite by accident, violating all diplomatic norms written, just today, a disaster for Russian foreign policy day, Valentina Matviyenko leaked details she brought Putin a letter from Pyongyang about its readiness to apply for a US nuclear strike. Please note, about North Korea, which the Kremlin was served almost as the main purpose of meeting with trump today there do not remember. Without us this "man-rocket" will understand.
In such a situation, one can understand the Kremlin, to delay the moment of the announcement of Putin's plans to go to the polls.
What external history of success to show? Syria expensive in the country is not "sold" on the contrary, the Crimea has already played, only the Kerch bridge there and remains… about the squabbles in the EEU generally keep quiet.
Even the "bomb Voronezh" does not work.
Bored