Nature has preserved the pristine beauty.
There are hundreds of national parks around the world, but the options below — some of the most exciting and interesting, giving you a glimpse of unspoiled nature, breathtaking wilderness and beautiful landscapes. If you want a bit of adventure, you have to add these parks to your list of places to travel.
National Park Lake Nakuru in Kenya will allow you to see the local wildlife.
There are many places to explore outside of the whole of Africa, but the national Park of Lake Nakuru in Kenya should be at the top of your list. It is located in the great rift valley, and although it is a bit small for African standards, there is something to see. In the Park live lions, leopards, hippos and flamingos, and we mentioned only some of the wild animals that you could discover.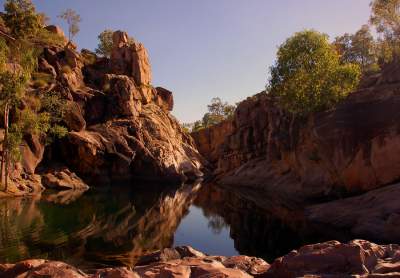 Kakadu national Park in Australia is huge.
Some of the best national parks are the ones that also teach you something about history, and you will definitely find it here. Kakadu national Park is full of history, as it is home to aboriginal people for 65 000 years and is the oldest living culture on earth.
National Park DOI Inthanon in Chiang Mai, Thailand has hundreds of species of birds.
National Park DOI Inthanon is known as the "Roof of Thailand" and located near the mountains of the Himalayas, near Chiang Mai. The Park is famous for its magnificent waterfalls, caves and mountains, and a huge number of birds that live there.
The Vatnajökull national Park in Iceland is home to the highest peak of the country.
While there are many beautiful national parks in other countries, you may want to spend time in Vatnajokull National Park where the highest mountain peak of the country — in other words, you will get stunning views.
Banff national Park in Canada has some of the most beautiful bodies of water.
This is the first national Park of Canada and the flagship of the national system of parks, and he is also part of the canadian Rocky Mountain parks included in the world heritage list of UNESCO.
Serengeti national Park in Tanzania is filled with wildlife.
If you want to see as many wild animals, you need to go to the Serengeti national Park. This is possibly the best wildlife reserve in the world, which has the largest concentration of animals in Africa. Hyenas, elephants, hippos, lions, giraffes, monkeys, wildebeest, Zebra … the list goes on and on.
National Park Torres del Paine in Chile has incredible views.
According to the official website, national Park Torres del Paine was declared eighth wonder of the world in 2013, as well as reserve by UNESCO. It is easy to understand why he is considered one of the most beautiful places on Earth.
The Fiordland national Park in New Zealand is ideal for kayaking and walking.
If you want to go to a place that many have not seen, go to the Fiordland national Park in New Zealand. He more than 1.2 million hectares in size, and it gives you great views of mountains, lakes, rainforests, and fiords. Also, there are so many plants and animals that are completely unique to the area. You can go Hiking or kayaking through the fiords and under waterfalls, and this is truly a wonderful experience.
National Park of the Arenal volcano in Costa Rica has an active volcano.
The Park is located within a larger reserve of Arenal, which protects the reserves along the mountain ridges Tilaran and Guanacaste. You will see, of course, the Arenal volcano is the most active volcano in Costa Rica with successive lava eruptions from July 1968.
The Kruger national Park in South Africa is home to many rare animals.
Kruger national Park is situated approximately 420 kilometers North-East of Johannesburg and is nearly 20 thousand square kilometers. It is also considered one of the best places for spotting wildlife in Africa. If you want to see the "Big five" (buffaloes, elephants, leopards, lions and rhinos), you most likely will find them in this Park. There is also the Nile crocodiles, hippos and the very rare bird.