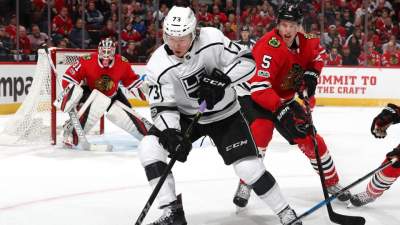 Completed the next day 101st season in NHL history.
"Los Angeles" on the road beat "Chicago" and extended its winning streak to five games, allowing the kings to get back in the lead pack in the Western conference. Forward "Los Angeles" Dustin brown scored the 11th goal of the season and assisted on Christian Polina, and goalkeeper Jonathan quick made 24 saves and was named first star of the match.
"Winnipeg" shipped five unanswered goals in the gate "Ottawa" and remained at the top of the West. The next goals were scored by mark Chifli and Patrick Laine, and the best player of the match was Blake Wheeler, who scored three points (1+3).
"Vegas" in the home match with "Alisovoy" has interrupted a series from three defeats. A minute before the penalty shootout extra point rookie NHL brought Reilly Smith. "Vegas" still comes second in the Pacific division, behind only "Los Angeles".
In the highest scoring match of the day "Dallas" easily beat "Colorado". "Stars" has won 7 of the last 8 games and broke into the zone playoffs. Reporting the best player of the match was Tyler SEGUIN, who scored twice.
The results of the matches of the day:
Chicago — Los Angeles 1:3 (0:0, 0:0, 1:3)
Winnipeg — Ottawa 5:0 (2:0, 3:0, 0:0)
Vegas — Arizona 3:2 (in overtime) (0:0, 1:1, 1:1, 1:0)
Colorado — Dallas 2:7 (0:2, 2:2, 0:3)