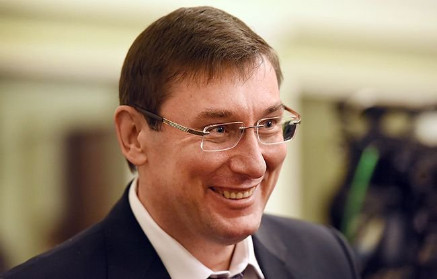 High-ranking officials, such as Ukraine's Prosecutor General Yuriy Lutsenko, are acquiring premium-class real estate in exotic places.
Ukrainian Prosecutor General and his family spent their winter vacation this year on the Seychelles Islands. It appeared obvious then, at least to the award-winning Sarjaevo-based Organized Crime and Corruption Reporting Project (OCCRP), that there was much more to the trip than just rest and relaxation. But few would have guessed the Lutsenko family purchased a $5 million estate in one of the most expensive neighborhoods in the world.
While not giving specifics, my OCCRP and Ukrainian journalist colleagues and Seychelles realtors specializing in premium-class properties have confirmed that a "respectable Ukrainian businessman" visited the island with his family early this year to personally inspect his million-dollar real estate acquisition.
This story began by accident in early March 2018 when I visited Hong Kong – a trip to forge new contacts and write about already strong and changing cultural ties between Singapore and China. But instead of writing about them, I learned a lot about Ukraine, one of our biggest food suppliers.
The rabbit hole opened up one evening in the lobby of the Ritz-Carlton Hong Kong when I made the acquaintance of a Ukrainian businessman. Although his knowledge of Singapore was limited to the pool on the roof of Marina Bay Sands, he knew all about the Seychelles Islands. For about an hour, he regaled me about the panoramic views and luxurious climate of the archipelago, where he had recently purchased real estate. Out of curiosity I asked him why he hadn't chosen a different and more accessible place. His response: Ukraine's Prosecutor General recently started the trend for buying property on Mahe in the Seychelles Islands. He asked me to keep the information hush hush, but it was obligation as a journalist to check out the story and report what I found.
The first step in this investigation was to contact colleagues at the OCCRP and in Ukraine to learn more about Yuriy Lutsenko and his family. A journalist in Kyiv there gladly agreed to help, but she asked me not to publish her name or include screenshots of our correspondence, fearing reprisals from Ukrainian officials when this story is published.
Lutsenko indeed enjoys extravagant rest and relaxation, my colleague said. And he recently visited the Seychelles Islands. She told me Radio Free Liberty/Radio Europe and its "Schemes" anti-corruption TV project learned Lutsenko and his family had spent a week there in early February 2018. The family stayed at the prestigious Four Seasons Resort. According to the report, from February 3 to February 11 the Lutsenko family spent 42,000 euros to rent two villas with a spectacular view of the ocean. Responding later in Kyiv to criticism of the lavish vacation, the prosecutor general said most middle-class Ukrainians could afford to do the same.
When I asked whether Lutsenko owns premium-class real estate in Ukraine and if he can afford to buy it abroad, my colleague responded: "Real estate is the passion of the Lutsenko family. Everyone in Ukraine knows this. Indeed, the Kyiv-based Nashi Groshi ezine in September 2016 wrote about the $5.5 million sale of a five-storey mansion on sale in downtown Kyiv. The seller – Ukrainian New Communications – was the firm of Yuriy Lutsenko's wife, Iryna. Simultaneously, Business Center Lotus, owned by their son Oleksandr, put the building up for rent.
The Lutsenko family owns millions of dollars in property. Following Oleksandr Lutsenko's grandiose wedding in September 1917, the family purchased an elite 183 square meter apartment paying a minimum of $300,000. All the companies listing Oleksandr Lutsenko as an executive or founder, according to OpenDataUA, are engaged in activities under Code 68.20 – "Renting or operating owned or leased real estate." All the firms are registered at the same address, a building of a shuttered factory in Kyiv's Sviatoshynsky District worth an estimated $3 million.
My Ukrainian colleague and I looked again at the dates of the Lutsenko family vacation. We started digging and hit paydirt almost immediately. It turns out that on January 29, 2108 local authorities on the island where the Lutsenko family was on vacation completed all formal procedures for transferring a 230 square meter villa and a 1,000 square meter plot of land into private ownership. The villa is located in one of the most picturesque parts of the archipelago and one of the most prestigious areas – Royale Bay.
Starting prices for the seediest and most inland properties on the island are hundreds of thousands of dollars, with ready-made houses costing in the millions of dollars. The Royale Bay villa is located 10 kilometers from where the Lutsenko family spent their vacation. It is a five-minute walk from the coast and has an ocean front view. It was sold officially – and suspiciously – for a mere $600,000. We learned, however, the luxury villa's actual price amounted to $5 million, begging the question: Did Lutsenko traveled to the Seychelles for pleasure and business?
Villa exterior
Digging deeper
Information about the villa is open source, available on the site of the Seychelles' cadastral register. The process of registering the villa for the new owner began on November 27, 2017. All official permits, including ownership, were signed on January 29, 2018.
My Ukrainian colleague told me an interesting fact:
"Just weeks before the villa was registered, Ukraine's SBU Security Service Deputy Chief Pavlo Demchyn, who heads of the SBU's main bureau for battling corruption and organized crime, published information about Iryna Lutsenko's multi-million dollar offshore empire. Was Demchyn's announcement connected with the offshore purchase of this villa?"
Having already obtained data about the villa and the plot, we next asked how the transaction for this elite piece of real estate was conducted. Our investigation revealed several interesting details.
Cadastre information about Royale Bay villa sale
No one at our newspaper speaks Ukrainian, so we asked our colleague to find out how much a piece of real estate such as this villa would realistically cost a Ukrainian buyer.
My colleague's response:
"I first contacted the international real estate agency Home Overseas based in Moscow. In Ukraine, despite what Lutsenko said about high middle-class incomes, there are no real estate agencies which sell elite properties on exotic islands. I introduced myself as the secretary of a solvent buyer from Ukraine and was told that the real value of a villa like this without tax charges is about $2.5 million."
She sent a transcript of her conversation:
Realtor – R: The actual price of Seychelles real estate on agency websites is understated. This is common practice.
Correspondent – C: Is this because of taxes?
R: Yes. Residents do not want to disclose real incomes to police, so everything goes through their officials. That's why there is no point in focusing on listed prices.
C: And this house, which we asked about, is it …
R: It was sold in January this year. Now, unfortunately, it no longer appears in the for-sale databases.
C: I wanted to clarify how much it will be …
R: The villa was bought, by the way, by your compatriot.
C: A Ukrainian?
R: Well, someone from Ukraine. Our partners there say a Ukrainian millionaire bought it, and the whole family looked at it. They bought it for themselves, so it's no longer on the market.
C: How much did you think they bought it for?
R: This is confidential information. We can't say.
C: Can you tell me how much a similar villa in the area with the same-sized lot and swimming pool would go for?
R: We sold something similar in the spring, but without a pool. The ballpark price is $2.5 million, without taxes and additional payments.
The tax system of Seychelles is known for its extremely high rates for non-residents and very loyal rates for residents of the archipelago. A private person who is not a citizen must pay 40% of the value of the property, plus municipality and notary services. A legal entity registered in Seychelles by resident founders pay only 4% from the first $9,000 and 10% from the remaining amount. Market experts, however, say that persons who want to keep their purchases secret have to pay much more.
A representative of Home Overseas shared information with my colleague about these hidden payments.
C: What do the additional payments include?
R: Ten percent of the original amount, plus another 40% from the original payment.
C: Wait, why 40%? We will buy it through a legal entity registered with you, I mean, in Seychelles. We planned for 10%…
R: Listen, everyone understands how the system works there, especially the authorities. As I understand, if you don't want to show anything…
C: Yes, yes. Complete confidentiality.
R: I understand, listen to me. If you do not want anything to show up, then pay 40%, anyway, because they will make threats and obtain court orders and launch investigations. These are the rules.
C. Got it. And how much more to pay officially?
R: Well, that 10% of the amount minus $9,000 and the civil servants' fees. I'll send you the actual information. And another 8.5% also…
According to information provided by Moscow realtors, the real estate purchase tax in Seychelles is 8.5% of the transaction amount, of which 1.5% is charged for the work of the Investment Committee, 2% for notary fees and 5% state tax. The data is relevant for December 20, 2017, that is, the period when the transaction we investigated took place. http://www.globalpropertyguide.com/Africa/Seychelles/Buying-Guide
We contacted a real estate agency in Seychelles with the same and similar questions. One dealt with this property (but did not sell it).
Unfortunately, we did not succeed in contracting the agency that carried out the transaction directly. Realtors said the application for the house was made last autumn, so they de-listed the villa. But Arriva Seychelles said due to difficulties with the buyers, the legal execution of the transaction dragged on for several months. According to the agency, the buyers were a wealthy family of a Ukrainian businessman, who personally visited Seychelles to close the deal. The information is corroborated by representatives from Home Overseas.
Arriva Seychelles representatives said all real estate deals go through the Seychelles Investment Committee. Transactions with buyers seeking full confidentiality first go through offshore buyer accounts and then through shell companies, which often belong to the employees of the Investment Committee. The transaction is formalized directly with their relatives. We learned that in addition to the established transaction amount and taxes, it is necessary to pay so-called commissions to committee officials in the amount of 40% of the property's original value.
Wealthy Ukrainian businessmen who value privacy must pay more, however. They are charged an additional 20% of the original value of the property by the realtors, who accompany the transaction and are intermediaries between corrupt officials and the buyer. Realtors often register a legal entity to which the property is registered. While there are no mandatory annual property taxes in Seychelles, it is necessary to maintain documents in proper form. This costs buyers a symbolic $400 monthly.
In the second stage of our investigation we contacted owners of neighboring houses and communicated with them. AirBnb advertises a modest villa for rent adjacent to the property bought by the Ukrainian businessman. We introduced ourselves as potential tourists seeking a peaceful and quiet vacation. And we asked about who our neighbors would be.
Sarah Hedricks:
"Our villa is located in one of the quietest places on the island, which attracts a lot of wealthy neighbors who will not give you any inconvenience. According to the laws of the district, you can not build new buildings here, so do not be afraid than on arrival you will suffer from construction noise!"
We were interested why construction is prohibited in such a prestigious and expensive area. The cadastre data shows the land is zoned for middle-class residential buildings. However, since the end of 2017, several dozens plots, including the villa we are interested in, were re-zoned for the needs of medical institutions to the highest class.
Cadastre plan approved in 2012
Cadastre plan approved in 2017
Closest medical facility to supposed Lutsenko family villa
We continued corresponding with Sarah, telling her the purpose of our visit was to purchase real estate in the Seychelles. We told her we wanted to register our purchase to a local resident in order to accelerate the process and "optimize" tax liabilities. Sarah told us more.
Sarah Hendricks:
"The procedure is possible in Seychelles, so you can count on buying a property in this way. If you are looking to purchase a villa in our area, my neighbors building is now engaged in development and can provide you with advisory services."
Using the GEOTAG function in Instagram, we found Sarah's neighbor on social media. Kevin Marengo indeed turned out to be an expert in real estate. Only a year earlier, he was an ordinary construction worker.
Kevin Marengo was an ordinary construction worker in 2016. Then something happened.
Starting in November 2017, Kevin's fortunes changed. According to his neighbor Sarah, Kevin became the title holder to the Lutsenko family villa.
Examination of social media pages of Kevin, the local purchaser of the Lutsenko family villa, show that before autumn 2017 he worked as an ordinary construction worker. Starting from November 2017, his fortunes improved. The change corresponds with the start of the legal registration of the Royale Bay villa. The construction worker's family took a two-week trip to the United Arab Emirates, Kevin opened his own development agency and at the construction site he now appears only as a supervisor.
We found Kevin's uncle and his cousin on Instagram. They are officials from the Seychelles Investment Committee. Kevin's cousin is responsible for investments directly in the Anse Royale district, and his uncle is a Seychelles Islands government official.
Investment Committee officials and, presumably, formal owners of the villa. They are relatives of Kevin Marengo, according to their social media platform connections
All the information gathered during this allows us calculate the minimum cost of the villa. Adding 40% of "commissions" to the original $2.5 million price, 20% in realtor fees, 10% official taxes and 8.5% for documents issued by authorized persons, we come up with the grand total of $4,962,500.
The Lutsenko family presumably paid about $5 million for real estate in Seychelles, not counting transaction fees, i.e. bank transfers. How much the prosecutor general's family will have pay in bribes to ban new construction near their new home is anyone's guess.
The interior of the villa features an elegant colonial style.