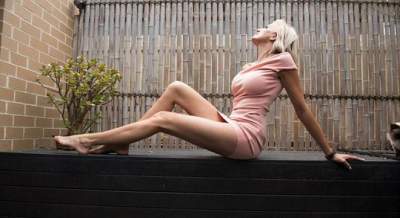 Legs Caroline Arthur, make up almost 132 cm
40-year-old mother of two and former model Caroline Arthur, living in Melbourne, said that the length of its legs is almost 132 cm with the height of 188 cm And this means that her legs make up 69% of the total growth.
Because of its slim build and tall Caroline always had difficulties in choosing clothes. Moreover, everyone is starting at her blatantly stare wherever she appeared.
However, Caroline wasn't always so confident. As a teenager, she tried to dress to hide your big growth.
Caroline and her husband Cameron have two children. Mother-in-law sew clothes for her and husband, a Builder, constructed their home with the high growth of the beloved – there are 3-meter high ceilings and kitchen countertops.