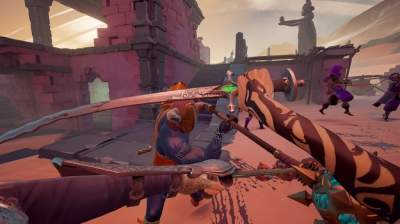 The developers hope that this will help the popularity of the project.
The first game by Torn Banner Studios has been quite successful medieval multiplayer action game Chivalry: Medieval Warfare. So the next project of the company — Mirage: Arcane Warfare — were pinned some hopes. But, alas, the second game was drowned, so Torn Banner Studios will rescue her extreme measures.
Steam community the authors announced that it will distribute Mirage: Arcane Warfare for free during the day, from 6 to 7 September. The action starts today at 20:00.
After khalyavnykh hand Torn Banner Studios will drop the base price from 29.99 USD (499 rubles in Russia) up to 9.99 dollars (most likely, 249 rubles in Russia). The price for the upgrade to the special editions will remain the same: 9.99 dollar (249 rubles). The special edition includes additional clothes, three boxes with random items, illustrations, soundtrack and a copy of Chivalry: Medieval Warfare.
Torn Banner Studios openly admits that the sale of Mirage: Arcane Warfare was very weak. The company all right, she will be able to create cool games and more. The developers far more sorry for the gamers who still believed in the Mirage: Arcane Warfare — they simply have no one to play with. Statistics on the third-party service SteamCharts confirms this: the peak of users in the game in the last 24 hours was 8 (!) people.
Developers believe that the Mirage: Arcane Warfare turned out good enough to find yourself a bigger audience. Why Torn Banner Studios and is satisfied with such an aggressive action, you, like, try, suddenly like it!
Recall that a Mirage: Arcane Warfare came out may 23, 2017. And thus went down in just three months, despite the support from the developers. They are in patches not only improved the technical aspects, but also added new maps, new character abilities, new items customization and new features like bots.