Beautiful and scary at the same time.
The Mont-Blanc massif, French Alps, France
The mountain top of the "Aiguille du Midi" — a part of Mont Blanc in France. The name "Aiguille du Midi" translates literally as "needle of the Noon" or "Midday peak".
Height: 3 842 m
First ascent: 4 Aug 1818
The first conquerors: Anthony and J. Malczewski.M. Balmat
The Capilano suspension bridge, North Vancouver, British Columbia, Canada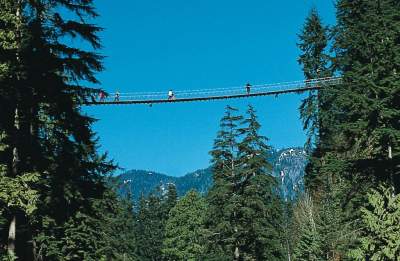 Capilano bridge – the usual suspension bridge crossing the Capilano river in North Vancouver. The length of the bridge 137 meters and it is situated at a height of 70 meters above the river.
Total length: 137 m
Location: North Vancouver
Province: British Columbia
Architect: George McKay Of Grand
Bridge Ojuela
Mapimi, Durango, Mexico
Bridge Ojuela is located in the North-East of the state of Durango in Mexico near the caves Rosario and historic hamlet of Mapimi. Its design was invented in 1898 by engineer Santiago Mingin. It is a wooden suspension bridge with a length of 318 meters and a width of 1.8 metres. The bridge is fixed from both sides by supports, called anchors.
Moving away from the anchor cables, which keep the fabric of the bridge. On both sides of the door held the parapets.
The bridge leads to an abandoned mine Ojuela. They say that it was haunted.
This bridge is a technological marvel and, of course, the attraction for tourists.
Total length: 318 m
Width: 1.8 m
Location: state of Durango, Mexico
Hanging bridge Hussaini
Going over this bridge across the lake Borit, it's hard not to notice the remains of the previous rope bridge. From the little that remained. However, to go on the new bridge almost as scary, thanks to the wobbly planks and wide gaps between them.
Rising in 2010, the lake water almost swept the bridge.