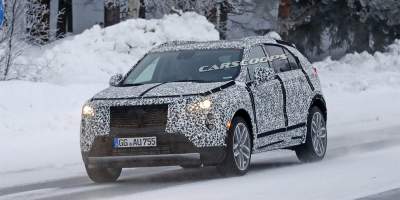 The main competitors of the car will be the BMW X1, Audi Q3 and Mercedes GLC.
Cadillac introduced the final tests for its new compact crossover called the XT4. Photospin managed to shoot a novelty during the tests in winter conditions. Pictures crossover were uploaded edition Carscoops. Premiere of new items will be held until the end of the year. Assembly crossover will be manufactured at the factory in Kansas. The main competitors of the car will be the BMW X1, Audi Q3 and Mercedes GLC.
XT4 will be built on the C1XX platform. The car design will remind the senior XT5 crossover. The car will be spoiler, roof rails and a sports exhaust system with two tailpipes.
Technical characteristics of the crossover are still kept secret. According to Cadillac President Johan de Nysschen, the novelty will be offered with "a brand new series of efficient and powerful engines." According to unofficial data, in the range of motors of the machine may log 2.0-liter four-cylinder with a capacity of 252 HP. It is also expected the appearance of a 1.5-liter turbo engine with recoil 170 horsepower. Late may debut and the hybrid modification of the XT4.
The basic version of the car available exclusively with front-wheel drive. Optionally you can order the all-wheel drive system.
The company also will develop a large crossover, which will take place between the XT5 and the Escalade. According to preliminary data, the novelty will receive the name of XT7. The Assembly of the new Cadillac will be conducted at the plant in Detroit.